I admit – I'm a huge fan of the Borderlands series. I have played all the previous parts several times, both in solo and coop versions – I have a great fondness for many overnight nights during my studies period, where, with my roommate, we sat in a single small room and play this title until almost exhausted. Does this make me an inappropriate reviewer, too in love with this series to say something bad about the latest part, which was released on September 13, 2019? From my perspective, it only raised the expectation bar for number 3 – apart from Metro Exodus it was the only game this year for which I felt quite a lot of hype. So did this game meet my high expectations even in a tiny fraction?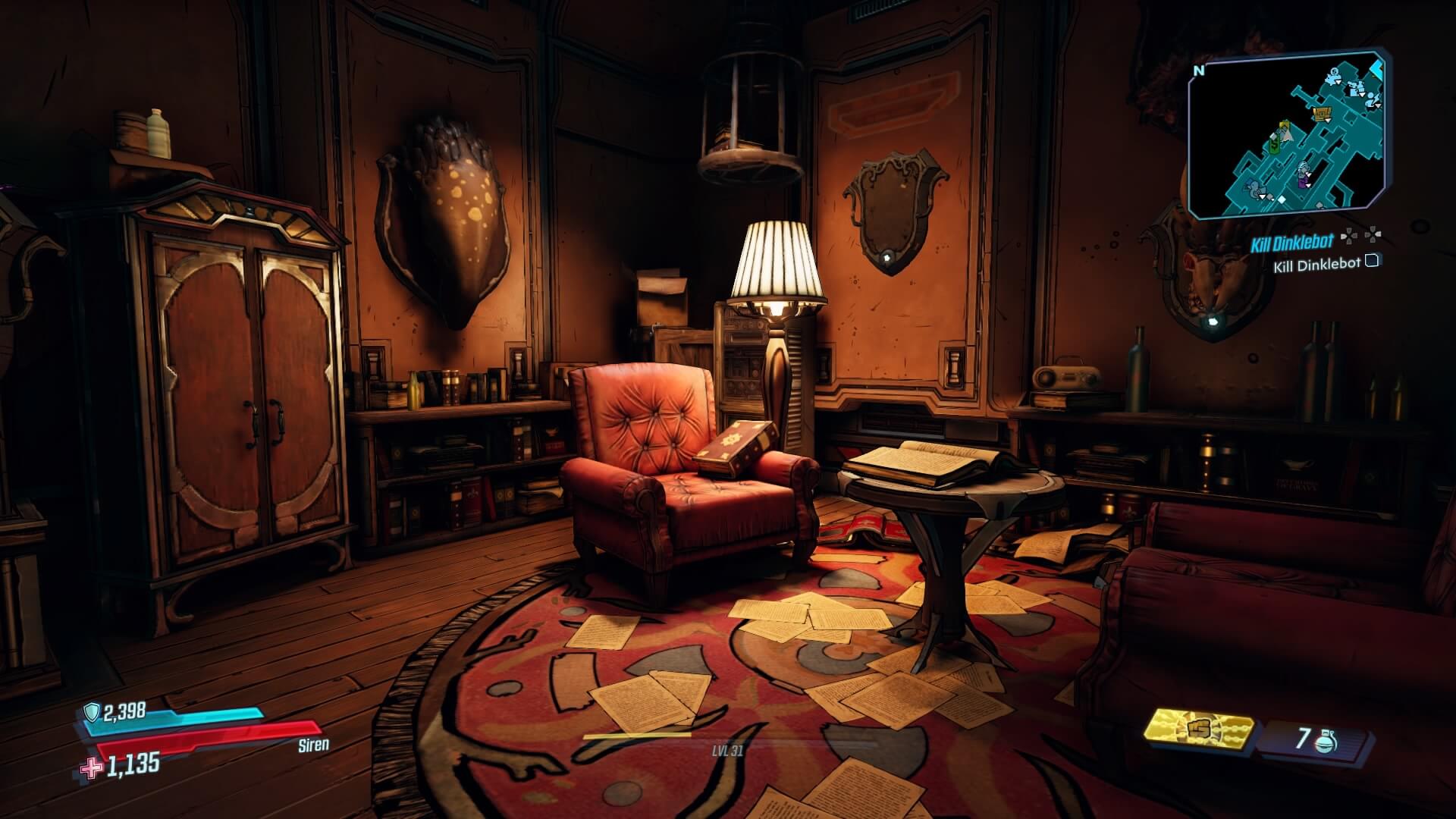 So, you're ready for another story, eh?
7 years have passed since the events of 2nd part and now the claws of power on Pandora belong to the Calypso twins – Troya and Tyreen – who are a peculiar parody of Internet influencers: they love to stream all their actions and somehow convinced the followers (bandits) to profess their cult, proclaiming their natural right to all powers and riches from the Vaults. Lilith and her team from Crimson Raiders, as usual, do not forgive the villains and try to destroy their plans to take over the benefits of Vaults. The plot itself may not be oustanding, and the new antagonists aren't as great as one-of-a-kind Handsome Jack from Borderlands 2, but you really don't need anything more to get into the game with eagerness.
Ain't no place like SPACE!
In Borderlands 3, our base is again the Sanctuary, but this time it's a spaceship that allows us to visit other planets besides the sandy, well known from previous parts, Pandora. The Vault Hunters have at their disposal a cyberpunk metropolitan Promethea, full of neon lights and tall buildings, which is the headquarters of Atlas and the current war zone with Maliwan; seemingly idyllic Athenas, reminiscent of Asian monasteries and inhabited by mountain monks; and also green, swampy Eden-6, which looks like a Jurassic park. Each planet has a completely different climate that diversifies exploration. It is also worth mentioning that the developers have taken a lot of level design lessons and this time the locations are no longer as "flat" as before – the maps are spread not only horizontally but also vertically (sometimes we have several levels of the map, which can also be viewed in 3D mode ), and you can also see that those who want to "snipe a bit" were remembered – there are plenty of hills, higher ledges and other spots from which you can easily set yourself with sniper rifles, seeing the whole area in your hand. There is no great technological leap here compared to 2, but it's hard to cling to anything, because the graphics please the eye with colors, interesting lighting and a cartoon setting.
Old pals and new friends
The strong side of the series are expressive heroes – many characters from previous parts appear in 3 (including Lilith, Tannis, Maya, Brick, Moxxi, Zer0, Claptrap, not-so-Tiny-now Tina, as well as Rhys or Vaughn from Tales of Borderlands ), but we also have a handful of new ones, which do not differ in quality from those already well known – on our way we will meet the characteristic and craving for coffee Lorelei or Wainwright Jakobs himself. Importantly, NPCs are not just a passive "mass" of pixels, and if they participate with us in a mission, they also act as additional healers who are able to "lift" us when we're in "Fight for your life" mode. It is also worth mentioning that the character animations have been greatly improved compared to the previous parts.
Tasty novelties paired with well known goodies
Dynamic slides, climbing on ledges, crashing covers, much better character and cash balance (Moxxi slot machines are not so cheap anymore …), new cars, more weapon options, extensive skill trees and the option to choose a cooperation mode – we can play the old system known from 1 and 2, where gameplay and scaling is dictated by the host level, or bet on greater cooperation, where everyone, regardless of level, is able to join the fight with no harm, because both enemies, exp and loot are matched to the level of each character. In addition, in cooperative mode loot is separate for each player – you no longer have to argue with your companions about who will take the golden weapon. Of course, these are not super innovative solutions – but they are what was very much missed in 2 and which significantly improves the fun of gameplay in the latest part. All of this, of course, seasoned with great music – and this is what the creators of the series always did very well.
Sweet, endless, bazylionic loot
In the arsenal we have as many as 9 weapon manufacturers – this time the set also included Children of The Vault products, with one "extended" magazine, but prone to overheat at the least expected moment. Also new are the famous guns with legs, which after reloading become running small cannons or the ability to switch between shooting modes in one weapon (e.g. from acid to electric or from auto to burst fire). Of course, each manufacturer has in his arsenal a bazilion versions of the guns with various modifiers, so expect that you will spend a lot of time constantly improving your inventory and comparing the obtained loot. Bazooka shooting hamburgers or acid bombs fired from a pistol is the absolute norm here. Feeling of weapons has also been significantly improved – differences between types of weapons are "felt" during their use, and enemies are not indifferent to it, for example, flying a few meters back after being treated with a shotgun. The aspect of weapons in Borderlands 3 doesn't really leave us any room for whining – well, unless you complain about the long loading of Maliwan's weapon bullets … Nevertheless, the multitude and variety of weapons is one of the strongest points of this game and you can literally juggle ways to annihilate opponents. The screens of your monitors or TV will often literally exude a multitude of colorful flares from weapons, special skills, grenades or broken shields.
Make mayhem in your style
Borderlands have accustomed us to the fact that at the beginning of the game we choose one of 4 character classes that differ in many aspects. This time developers went a step further and despite the fact that we still play as one of 4 characters – Fl4k – master of animals, Moze with her super-powerful mech, Zane armed with cybernetic gadgets and the most interesting comments in this part; or Amara, the Siren, with many mystical arms – this time the choice of skills and their modifiers really changes the fighting style and our character can take a completely different tactic depending on the active skills. This is a very cool solution that will allow you to complete the game even several times, with different characters and different skill positions, without being bored with the repetitive gameplay. It is also worth mentioning that the Sanctuary itself has a room prepared for each character, which you can customize and display your favorite weapons iniside. Of course, if we play solo the other 3 rooms are not available – only in coop can we preview the decor of our companions. And let's not forget about modifying the appearance of the character itself – as usual, we have a choice of outfit skins, various head appearances (we can play e.g. with the head of a horse empathizing with the role of BoJack Horseman), and also what's new – ECHO Device colors, weapon skins and various trinkets to attach to our guns.
Time for fiery driving
Let's face it – vehicle control has always been a problem in the series. What's more, we could summon max two vehicles at the same time, so if we played in bigger than 2-team people, we could avoid friends and condemn them to travel on foot. In addition to the fact that the vehicles allowed us to move faster to distant places and fight with enemy units, they were not very attractive part of the game. In Borderlands 3 this aspect has been expanded a bit more and even the control has been improved (although it is still not perfect) – this time each player can choose their own vehicle from 3 types, it is also possible to take over enemy vehicles and get better parts from them, like better cannons, wheels with blades or super nitro power. Setting off with an armed 4-person team you can really feel like in Mad Max. All obtained parts are beautifully displayed in Ellie's garage at Sanctuary, and the undiscovered ones can be seen as a red hologram showing us what else to look for to complete your garage.
Optional missions … try them out mandatory!
Of course, the latest part of the Borderlands series does not forget about additional missions besides the main storyline and, fortunately, they are not an empty filler. We have here a lot of missions-challenges scattered around maps related to e.g. searching for parts for Claptrap (or rather his friend …), hunting for unique creatures commissioned by Sir Hammerlock (and trophies from them can later be admired in a dedicated room in the Sanctuary) or hidden loot from the legendary, first Vault Hunter Typhon DeLeon. Skipping optional missions will cause you to miss a lot of fun, interesting exploration and easter eggs – that's why it is really worth giving them a chance and not just running through the main plot path.
Easter eggs are served at the table!
Since I mentioned Easter eggs, the fans of the series know that quite specific humor is the flagship of the Borderlands series. Maybe not everyone will like it right away and it will certainly be harder to get used to / understand it to people who haven't played the previous games. It can be moronic, obscene and very "dry" – but that's how it suits this world and we have repeatedly chuckled with the whole team while listening to the next golden thoughts of Claptrap or Zane's comments. Creators implemented a really huge number of easter eggs and references to various elements of pop culture – I have the impression that there are so many that it is impossible to come across most during only one playthrough.
Culinary quests in the Echo Device menu …
Could there be more culinary items in Borderlands 3? Well, it could be … but there are quite a lot of them, and even several missions were dedicated to them! Caffeine theme in Rise & Grind, hamburger bots at Dynasty Diner, atmospheric Siren pub and bakery at Athenas, small food tracks on Eden-6 and skewers of strange origin grilled on the streets of Promethea – thanks to this my gallery of food screenshots has expanded by several dozen exhibits again. There are also a few culinary easter eggs – such as a book on the shelf of Sir Hammerlock with an interesting title 50 Shades of Gravy … More details about food in the third part of Borderlands I will describe in specific recipes – the first one will go to a cake inspired by the aforementioned bakery from Athenas, so stay tuned.
Vault Insider Program – a great hype booster
There is one more thing to be praised from the team responsible for the latest Borderlands. It is building community and hype a few good months before the premiere. I am talking here not only of regularly released teasers or materials – but also of the Vault Insider Program, in which for certain activities (e.g. watching the trailer or reading an article on the game page or entering the code from the newsletter) you received points that could be exchanged for prizes in the game, e.g. rare weapons or game skins or desktop wallpapers. I took advantage of these additional bonuses myself and I was up to date with information about the game, so the action was really effective. In addition, it is worth mentioning that a few months before the premiere, a free DLC was also released, which is a bridge between 2 and 3 and HD texture packs and discounts for the Handsome Collection set were taken care of.
A bitter dash of technical problems
It's now time for a slightly bitter taste – the biggest problem with Borderlands 3 is the technical side and optimization. I tested the game mainly on PS4 Slim and for a while on the Pro version. I am still able to endure the first week after the game's release with some shortcomings – but the lack of correction of glaring errors almost a month after is somewhat annoying. First and probably the most significant – the ECHO Device menu can load for 10 seconds, because too many visual effects were thrown there (and yet a good UI does not have to shoot fireworks – it is enough that it is comfortable, easy and useful), so changing of the equipment during the fight it's not even an option. Split screen, despite the quite comfortable horizontal view, was lagging really sharply when one of the players opens the ECHO menu mentioned above (tested on PS4 Pro – I don't even try to imagine playing in split screen mode on a standard version) or a store. The game also includeshuge drops in FPS during the accumulation of explosion effects in full coop mode. The slowly loading layers of textures while loading the location, displaying the wrong thumbnail of the talking NPC or the fighting mode music flying in the background even after it ends are like trifles, but indicating that the game has not been refined as it should. Stability leaves a lot to be desired, but it doesn't affect the gameplay just as much – apart from the major problems with framing while launching the menu, the rest of the errors don't spoil the general gameplay.
To sum up – despite considerable conservatism in the gameplay design and numerous technical shortcomings and too complex, lagging menu, Borderlands 3 deserves numerous praise and should be a must-have item for both fans of the series and lovers of loot shooters. Over 3 weeks after the premiere, and I'm still having a great time – both solo and with my team (thanks to Kiniu, Squallu and Wiśnia!). Many aspects have been improved so the gameplay is more juicy than ever. Although in fact the developers went a very safe path and did not try to do something completely different and innovative from the series, they should not be blamed for it, because this strategy allowed to produce a very good game. If you are looking for hours and a very satisfying multidimensional playthrough that will treat you with colorful, cartoon graphics and specific humor – then don't wait, just buy your copy and set out to conquer the power of the Vaults! I definitely recommend it!
My final rating:
8.5/10
In addition – a big thank you to Cenega (and Przemek), Polish publisher of the game, for a copy of the game and a wonderful press kit with a picture of me converted into a Siren (Tiny Anita). So great <3
Wyświetl ten post na Instagramie.
Wyświetl ten post na Instagramie.