Chocolate Coffee Cake
COFFEE NOIR
intensively chocolate cake with coffee
PREP TIME: 1h | 4 h (waiting)
PRICE: 20 zł
SERVING: 10 portions
LEVEL: medium
STATS: 455 kcal | 8,4 g proteins | 76,1 g carbs | 13 g fat
YOU'LL NEED
a big bowl
a cup
a round baking dish (22 cm)
baking paper
mixer
an oven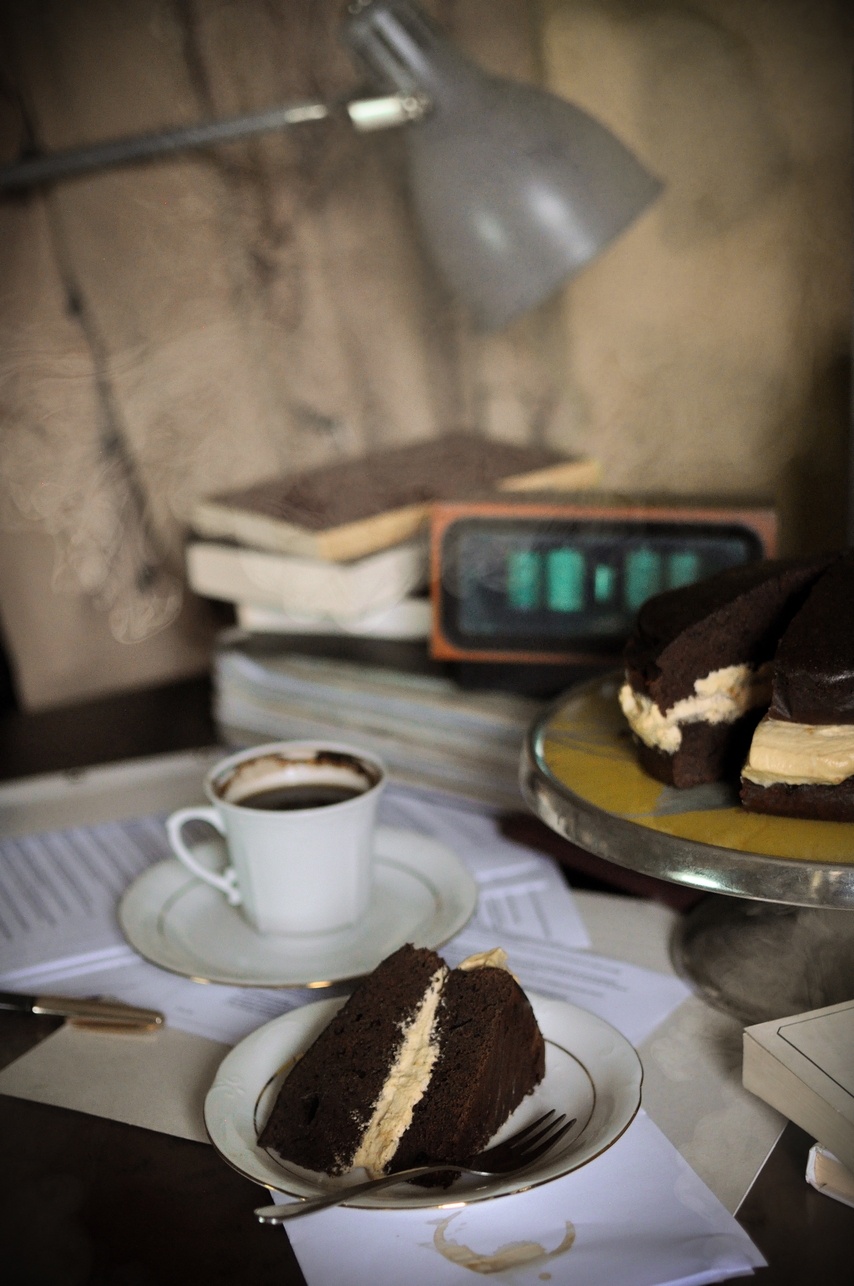 INGREDIENTS
CAKE
wheat flour type 450 – 2 cups (260g)
dark cocoa – 3/4 cup
sugar – 1 i 3/4 cup
M sized egg – 3 eggs
melted butter – 1/2 cup
buttermilk – 1 cup
grinded coffee – 4 teaspoons
baking powder – 2 tsp
hot water – 1/2 cup
salt – a pinch
CREAM
cream 36% FAT- 300 ml
instant coffee, liofilized is best – 3 teaspoons
powdered sugar – 4 spoons [or more] alcohol to soak the cake, for example vodka or coffee liquor (50 ml)
PREPARATION
1. ESPRESSO (2 min)
Put 4 teaspoons of coffee into a cup, boil the water and pour it into the coffee (3/4 of the volume). We put it aside to let it brew and then cool.
2. BUTTER (2 min)
Melt the butter and put it aside to cool – it should take 1/2 of a cup.
3. DRY INGREDIENTS (2 min)
Sift flour and cocoa through into a big bowl. Add salt and baking bowder. Mix and put aside.
4. MOIST INGREDIENTS (5 min)
Crack the eggs into a second bowl. Add sugar and mix with a whisk or mixer until you get an uniform, a little foamed mass. While still mixing, add the cooled molten butter and buttermilk (it should have room temperature) and at the end slowly pour in the cooled espresso.

5. MIXING THE INGREDIENTS (2 min)
Add moist ingredients to the dry ones and mix just to the moment when they are combined.
6. BAKING (5 min)
Divide the cake into two portions and pour it into round baking dishes smeared with butter and with baking paper in them (you can also bake one at a time, if you only have one dish). Put the cake into the oven warmed up to 180 Celsius degrees, with the top & bottom option. Bake it for 30-35 minutes – after that time check it with a toothpick, which should be clean after putting it into the cake – if it's plastered with raw cake, bake it a little longer. After baking, carefully get it out of the dish and leave it on the grate to cool down.

7. SOAKING (5 min)
Make the lower part of the cake even with a knife to put the other one on top of it (the cake usually bakes with a slight mound). Soak both parts with the alcohol (vodka or coffee liquor) or strong tea brew (in the version without percentages) – lubricate the cake on the top with a brush or slowly pour the liquid with a spoon. Cover the cake with paper and leave it in a cool place for 4h.

8. CREAM+COFFEE (5 min)
Pour the cold cream into the bowl, add a pinch of salt and whip until stiff, add powdered sugar and coffee at the end (begin with about 2 spoons – and try to add more coffee if needed). The amount of sugar can be also modified. Smear half of the cream on one part of the cake. Leave the rest for serving – keep it in your fridge in a closed container.


Put the second part of the cake on the first part covered with cream. Cool the cake in a fridge for 2-3h (remember that it should be in a closed container so that it doesn't absorb the smell of other products).

SERVING
Serve the cake after cooling. Cut it into pieces and pur some whipped cream with coffe on it.
Serve with a cup of good coffee, switch on your gramophone and relax in a comfortable armchair, thinking about solving the mystery of Richard Kersey's dissapearance…